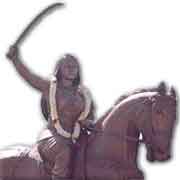 I was on a small, rather long, vacation trip to Hubli for almost 15 days. Life here at Hyderabad has become so monotonous that I feel like I am in a big hell. Though I have been making every effort make life a little interesting, its not been happening. Time just swindles away with nothing being done or achieved. Its hard to believe that we have aleady completed 7 months of life with this job. Handling the queries time and again giving the same solutions has made life lifeless. There is neither a scope to do something new nor any zeal to do it

A few days in Hubli, I thought, would add some rejuvenation to life. Though it was refreshing, all that has gone down to ground within a couple of days of returning back. I could not even study for the 2nd semester exams of SCDL and performed very badly in them. I had been maintaining at least 60% marks in every exam in the 1st semester but in the 2nd semester exams, I could just manage to pass them

On the last saturday, one of my friend, Mallikarjun Swami aka Kudda Mallya was here. We had a good time. We roamed around the city. It was the first time that I stepped out to see the city. I had never had enough energy in me to do it. Some worries are so strongly induced in the mind that they dont allow any other thought to flow in. It was a good 2 days spent with him. We had been to iMax, Hussain Sagar lake, Lumbini Gardens, Hyderabad Central, McDonalds, etc. I felt for the first time in life that staying away from everyone and living with new people where you have not got any friend is a real painful experience and someone who comes to meet can just make life a delight

Some months back, another friend, Veeresh Kamat from J G College was also here for just a day and that too was a pleasant experience. I also feel great about another friend who had been here to meet me thrice. Only I know how I miss that. I keep asking God to have some mercy on this life and take me to some place where I can at least breathe. However, one thing I am sure of is that any place would not make my life a good feeling till some crucial problems of my life get resolved. People observe me and ask me often as to why I am so "Khoya Khoya" all the time. I dont understand how to answer them. I never lie in my life. However, I wantedly make people believe that I am a liar. Sometimes, truth about life might be uttered. In such cases, I can easily escape saying that I always lie. I try to show a lot of things which I am not. I have not been able to live life the way I want to. There are a numerous reasons for it

Lets come back from this regular brooding stuff. Howmuchever I crip, things will not change. I have been offered these obstacled by the God and I always believe, he only will show a way to clear them. I was in a night shift the previous week. In the day, I was sitting idle and I suddenly got hooked to the net and thought I must do something to add something to life that would at least keep me a little engaged socially with the existing friends circle before they forget me. I created a fresh new Orkut profile and added a good number of friends. But then, this week, I am in an early morning shift and thus my access to net is limited. In fact, I have not yet taken an internet connection. We access internet through some unsecured wireless networks in our area. These networks are in an open access only at certain times and if I put on my lappy at the same time, that would enable me to access the internet. So many tussles...

Yesterday was my roommate Anshu's birthday. Yeah, I have forgotten to mention that we have moved in to a small home from the old paying guest. Its almost 3 months now. Our home is located at 1-74/D/2, Sri Subham Jewellers Bldg, Opp: Amaravathi Restaurant, HiTec City Road, Madhapur, Hyderabad- 500 081. 3 of us, I, Anshu and Maruti stay here. Its a single bedroom house situated at a very good location that is accessible to all important locations at a very small distance. Coming back to the birthday, I had planned a surprise party for him. His parents and his sister too are here with us on a vaccation. At night 1 am, I woke everyone and a cake cutting was done. These were some delightful moments. And luckily, Amour was there to capture these moments. In the day, he took us for a treat too at Ginger Court. It was a nice experience too. However, due to the excessive costs, the dining was not enough for the tummy. So, after that, we had been to have veg rolls at the Kolkata Rolls vendor point. And then a glass of juice at the regular juice point. Now, that was an appetite suiting and delishing food experience

Well, I just try to somehow relive these few moments of delight time and again and try giving an experience that, yes, my life is good too. However, the heart knows what the truth is

I have been aggressively getting a thought to move out of my current job role. It is neither offering any growth nor any experience. Its something thats not exciting my senses. Its something that is not meant for me. I am feeling a strong desire to switch my job role and move to something that can add some value to my life and make me feel interested in it. It must give me a feeling of staying back at the office without seeing the clock. Thats what I call as a job. I am not in a mood to do something where I come, stay for mentioned time, do a mentioned task in a mentioned manner itself, have food at a mentioned place at a mentioned time and leave at a mentioned time. After all, I am a human being and I must at least have a freedom of having my food when I feel hungry or going for a nature's call when a need arises

These are some brooding reasons which I dont bother much about. The only intention is that my academic knowledge and skill must be put into use. Its going for a big toss from the time I have joined this job and if a corrective step is not taken at least now, then, I shall land in the common man's market where I will have to lead my life at the mercy of my employer. I will never be able to do business with the employer. The relationship must be very clean and clear. I give you this and you give me this. Thats it. Not a word more, not a word less. Thats the route to success. However, 99% of job goers just go for it just for the purpose of going. They live life at the employer's mercy and keep waiting till the month end to get their salaries, pay their EMIs, credit card bills, children fees, household expenses, etc. In a week, their pockets get empty and the remaining 3 weeks go in anticipation of the next month salaries. Ultimately, there is no one working with enough motivation. Those on the top management have a different life. They work for the company's growth. So, in their case, salaries are not a matter of conern to such a large extent. Yet, they too are subject this natural law of work life

Let me stop today's writing here. See you soon...