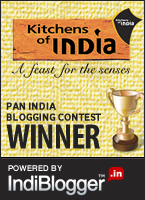 This blog post won a dinner voucher for a couple in the Kitchens of India My Weekend Party with Gourmet Food contest on Indiblogger.
This post has been written exclusively for Kitchens of India's "My Weekend Party with Gourmet Food" on IndiBlogger. Kitchens of India has come up with a wide range of Ready to Eat dishes and desserts, making a gourmet meal accessible at the comfort of your home with the concept of "Just Heat and Eat!". Interestingly, these recipes have been crafted by the Master chefs of ITC hotels, from royal recipes guarded closely over the ages.
Around 6pm, while I was browsing through some pages on facebook, I realized that it was my friend's birthday the next day. It definitely called for a treat but it also called for a surprise plan from my end. I called up a couple of other friends and luckily, all of them were available for a late night party. I called up the birthday friend, Radha, to confirm if she was available at her home.
So, we started planning for the party. Radha is the cook in our friends circle. Though a Software Engineer by profession, she's the one who can cook some real food unlike most of us who can cook maggi and coffee. Radha can cook upma, make chapattis, prepare various curries and several other food items. On most weekends, her home is our adda aka den, firstly because there is enough space and secondly because she can cook for us. It would not have been a good plan to make her cook for her own birthday while it would not have been bad either as she would not refuse to do that. Considering none of us were good at the kitchen, we decided to pack some food.
The responsibility for managing the show was given to me. We planned to meet close to her place around 11.30pm and pounce the surprise on her. I went out looking for some good food at restaurants. I walked in to some regular Andhra food places, some pizza cafes and some fast food joints. Something was holding me back from taking a decision on buying any food. I was kind of bored with regularly consuming the same stuff. I was also not interested to visit any restaurant to have food. Eating at a restaurant everyday had made my mouth kind of a machine churning the feed.
I really wanted something new to eat.
I called my friends again and told them about this dilemma. They too were of a similar opinion. While Shreya suggested we must go to the city outskirts and eat some food at dhabas, Dheer suggested we must get into an overnight bar and drink all night. Shreya also spoke about some ready to cook food which we can buy from retail outlets. The dhaba plan didn't seem very feasible as none of us were willing to drive. Neither the 'get hangover' plan seemed to fit all of us. So, we decided to experiment on the read to cook plan.
After googling a bit about these packaged foods, I was amazed. I never knew that I could use these packets of paneer sabjis, mutter sabjis and several other savories to cook food instantly. There were several varieties of rice as well. It looked yummylicious.
There were several brands that were catering this segment like the Aashirwaad from ITC, MTR, Act Chawa, Regal Kitchen, Parampara, etc. What caught my eyes was one the Kitchens of India brand. I learnt later that it too was an ITC brand. What impressed me was that Kitchens of India offered a wide array of ready-to-dine and ready-to-cook packaged foods like none did. May be, the others had many products but Kitchens of India had exactly those products that I was looking for. It looked like my portfolio.
I read further and was thoroughly impressed to learn that each of these recipes were master crafted by the chefs from ITC hotels. That stunned me. I've always loved the food at ITC hotels. Very recently, I visited the ITC Windsor Manor and the kind of paneer starters the chef had for us was simply world class. The tomato soup that I had at ITC Gardenia almost a year ago is something that I savor even now. I looked through the website
http://shopping.kitchensofindia.com/
and it looked pretty interesting.
I was ready to experiment.
I went to a nearby retail store and bought the ones that I liked. In the meanwhile, I delegated the task of getting something to drink to my other friend, the one who suggested to drink all night.
For the occasion, I needed to buy something sweet as well and the Kitchens of India product catalog surprised me with Halwas. I picked up a pack of
Hazoori Petha Halwa
and dropped it in to my cart. For Shreya and Dheer, who love to eat non vegetarian, I picked up the
Murgh Methi
and Chicken
Darbari
. For me and Radha, who are vegetarians, I chose
Mughlai Paneer
and
Dal Bukhara
. I chose the Mughlai Paneer as it was prepared in a gravy of cashew nuts, that I love to eat. What surprised me the most while I was shopping was the fact that most of these products have a life of 35 months. I was like totally wowed to read this. I did not believe this but when I spoke to the store manager, I was convinced. It is incredible how food and technology have come together to help homefoodless people like us staying away from home and eating the same food over and again at the restaurants. Plus, the ITC tag on all these packets made me extra comfortable.
I bought a small bottle of
Shredded Mango Chutney
, a
Vegetable Biriyani Mix
and a
Chicken Curry Mix
. Now these purchases didn't have any motive. I was just curious to see how they were. Considering that I would be staying back at Radha's place, I thought I can ask her to prepare some rice the next day and get her view on whether it made a good option for us.
I was ready to go. I got back to my room, got fresh and got back to watching TV. Around 11pm, I left to Radha's place. Shreya had picked up the cake and Dheer had got all that he wanted to drink. It was still 15 minutes to 12 but we couldn't wait anymore. We just started belling and banging the door as Radha ran out to see what was wrong. And here we go
Happy Birthday to you
Happy Birthday to you
Happy Birthday dear Oh Raadheee
Happy Birthday to you
The birthday bumps were next on. We just stood to clap as Shreya tried to really do some bumps. The cake was ready to be cut and her face was ready to be messed with the cake. It was all done. We were having great fun. After all the celebration, I could see that Radha was really happy to see this surprise package from us. She said that she will prepare some tea for us but Dheer was quick in showing her all that he had got. A mat was spread on the ground and he went right over. Shreya was quick to join him with some fanta sprite stuff.
Very hesitatingly, I took out the Kitchens of India products that I had shopped and handed them over to Radha. She was totally surprised. I told her that the rest is up to her and that we were also open to go out for a midnight dinner elsewhere. Radha said that she can get the buffet ready here itself and walked into the kitchen. She had some ready to eat kind of chapattis and parthas that she kept for emergencies (like this). It took some more time for her and me to set things up and then, our dinner was ready. Dinner cooked by us in the disguise of ITC chefs. I was very skeptical of how it would taste.
In the meantime, I was laughing to myself as the TV played. I was certain that Shreya and Dheer were doing it intentionally.
Kuch thanda pee lo – mood nahin hai... Dahi vade lo – mood nahin hai...
Kulfi kha lo – bahut kha chuke... Paan kha lo – bahut kha chuke... bahut kha chuke...
Aji ras malai – aapke liye... Itni mithai – aapke liye...
Pehle joote – khayenge kya... Aapki marzi – na ji tauba, na ji tauba...
After some time, we starting eating whatever we prepared. To put in the simplest words, it was just marvelous. The food was so fresh and nice to eat that I felt like I was having a live buffet at some restaurant, like Radha remarked. She revealed later that she too has been liking this Kitchens of India products that she used from a few weeks. She claimed that her usage has been increasing. We were very hungry and the consumption happened at a very quick pace. Soon, we had eaten up all that we had prepared. There was still a lot of empty space in our stomachs.
While Shreya and Dheer continued to go down, it seemed like Dheer had given enough motivation to Shreya to not just remain with cold drinks, I checked with them and Radha if we should try the Biriyani mix as well. Everyone was gung ho and the birthday girl, though we were sorry, happily got on to prepare some rice as well. Our whole objective for all this plan was not to toll her with the cooking work and it did not really seemed to work to 100%. But then, definitely, the toll had reduced by more than 80-90%, to say the least. Being able to have gourmet food at the comfort of home does need some effort, obviously. The biriyani tasted fabulous and we all loved it.
We all were wondering how the world has evolved over a period of time. From the time when we would say that we have to consume food within 1-2 hours of cooking, we have evolved to a time when food can be preserved for 2-3 years. It made us feel totally clueless on how this has happened. But then, we were happy at it. There was a time when building a home with bricks was considered a miracle and today, we have multiple floors built in a day. Above all, what made the most important and significant point to me was the amazing quality that continued to be preserved in the package making food time proof.
Oh Radha tera birthday... Oh Radha teri party...
Oh Radha yeh hai ITC ki Kitchens of India...
Oh Radha teri tasty recipe... Oh Radha teri cooking tareekey...
Oh khaaye khaaye saari nagariya...
We continued discussing on many other changes the world has seen, from various fields, and we realized how fast changing the world is. Undoubtedly, we all were under total influence of what Dheer got us but then, it is when we are hung over that we speak of the simple things in life and realize how lives and times have changed. Else, in this complicated world, there's not a moment when we try to be simple, straight and sweet.
Thank you ITC for this delicious Kitchens of India endeavor. I'm sure it will help a lot of us experience authentic cuisine at our choice of time and place. Freedom is the greatest virtue for human beings and providing freedom with the most basic needs of life is indeed a great way to help people live a better and beautiful life. Thank you for these simple solutions that are so difficult to discover.